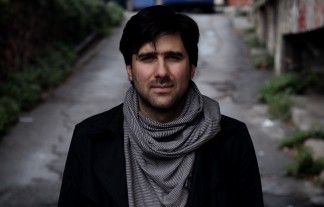 Yorgos Zois was born in 1982 and lives in Athens. He studied applied Math and Physics in N.T.U.A. and film direction in Stavrakou Film School, Athens and in U.d.K, Berlin where he was awarded a scholarship by the Goulandris Foundation.He has worked as an assistant to Theo Angelopoulos.
Casus Belli is his debut short film. The film premiered in the official competition section of short films at the 67th Venice Film Festivall, took six awards at Drama Festival 2011 and Best Short Film of the Greek Film Academy. It has been selected in the official Competition of the most important international film festivals (Rotterdam, Clermont Ferrand, Tokyo Shorts Shorts, Brussels, Krakow, Palm Springs California, Los Angeles LA SHORT FEST, Era New Horizons, Melbourne IFF etc) and the journey goes so far in over forty international film festivals.
At the same time it is the first Greek short film that secured distribution in theaters in France and has already been boracasted by television stations in France, Italy, Portugal, America, Australia. Finally the film was screened in Greek theaters before movies 'Attenberg', 'Wasted Youth' and 'Apo ta kokkala vgalmeni.'
He is now in the pre production of his first feature film called 'Stage Fright', the script of which was selected in the program Balcan Fund and recently in the European project Cinelink which took the grand prize development of CNC (French Film Centre). He lives and works in Athens.